Services
Jet Ski Rentals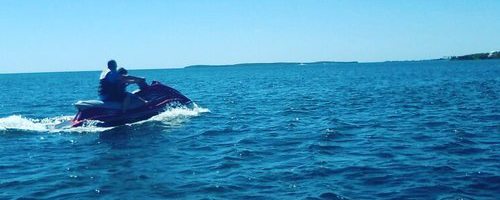 Keys Skis and Adventures' fleet of wave runners speed across the water's surface, sending plumes of liquid into the air as riders uncover some of the area's most scenic destinations. On semiprivate tours, the personal watercraft coast along local canals, open waters, and mangroves. The Key Largo area sets the stage for these aquatic adventures, granting easy access to the Atlantic Ocean. Local wildlife such as manatees, dolphins, and aquatic birds make appearances in these areas, although they rarely sign autographs!
Two Hour Jet Ski Tour
Explore the mangroves and open water surrounding Key Largo with Keys Skis. This two-hour jet ski tour departs from the Key West Inn and travels through John Pennekamp State Park, into the Atlantic, and the Gulf of Mexico.
Take the tour on your own jet ski or bring the family — each ski fits up to three people for the same price. Limited to groups of up to six jet skis. The semiprivate tour departs from the canals and reaches open water within five minutes.
Travel through John Pennekamp State Park and keep your eye out for marine life including manatees, dolphins, and numerous aquatic birds. Next, ride around in the open water or stop for a swim in the Gulf before heading back to the Atlantic side, where you will speed through more mangrove tunnels.
Tours are offered seven days a week by reservation only. Use this deal on your next day trip or overnight getaway to Key Largo.
---
Kayak Rentals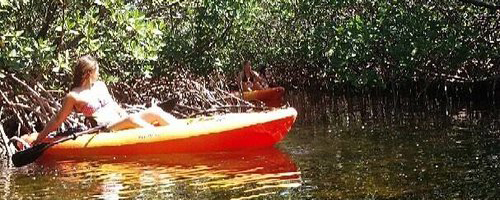 The Florida Keys and John Pennekamp State Park offers year round Kayaking, Our Key Largo location is the perfect starting point to begin your tropical paddling adventure. Keys Skis offers daily instruction and kayak rentals. We can accommodate large groups and specialize in custom and corporate outings.
Whether planning a day outing or an extended paddling adventure in the Park or Waterways of Key Largo we are here to help. We will be happy to provide you with information and equipment necessary to make your trip a pleasurable experience. Join us today and launch your adventure from our dock! We offer hourly and daily kayak rentals.
Two Hour Kayak Tour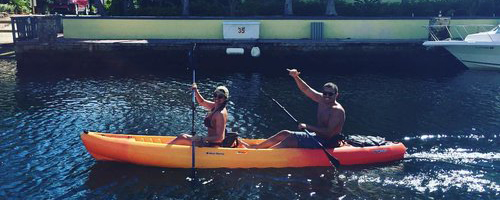 Our 2 hr. Kayaking tour in Key Largo is a favorite for kayaking. The serene waters offer great protection from the wind, and is always teeming with marine life. We usually see tons of parrotfish and smaller baitfish, mangrove snappers, stingrays, small sharks, turtles, plus some varieties of sponge and coral. In the mangroves and in the skies you will see herons, egrets, ospreys, and if you are lucky a spoonbill. Enjoy a leisurely paddle with the tide along a secluded mangrove creek, then relax as you move across the tidal flats in the Atlantic Ocean.
---
Parasailing

Fly solo,tandem, or triple.  We offer the most spectacular Sky-Soaring flights available in the Keys.  Being the only Parasailing company in Key Largo on Oceanside "Atlantic=clear water".  You will enjoy the 25 mile views of Key Largo, the Atlantic Ocean, John Pennekamp State Park, and Florida Bay.  Gentle, dry take offs and landings on the boat platform provide a safe and exciting flight experience.  We take you up with a 800 feet of line so you will be able to see both sides of the island.  Average time once airborne is approx. 7-10 minutes.  No special clothing is required.  We have happily flown ages from 4 to 90.
We are the safest Parasail operation in the upper keys with live time weather radar.  All flights are scheduled upon weather conditions so don't wait until the last day of your vacation!  Crew and 12 passenger parasailing vessel meets and exceeds all current USCG Safety Standards for Parasail Craft and meets the New 2014 STATE OF FLORIDA PARASAIL STATUTE.
Bike Rentals
Key Largo is bike-friendly and offers some of the most scenic pathways in the Florida Keys. Spend a short time adventuring on a bike and you'll gladly leave your vehicle next time you're exploring the Upper Keys. Renting a bike in Key Largo puts restaurants, shopping and entertainment at your fingertips.  Renting a bike is also a fantastic way to spend time with friends and family while taking in the Keys.
Flexible rental rates available that will fit with your needs during your stay in the Florida Keys.  Renting a bike in Key Largo is a fun means of transportation that's environmentally-friendly and affordable.