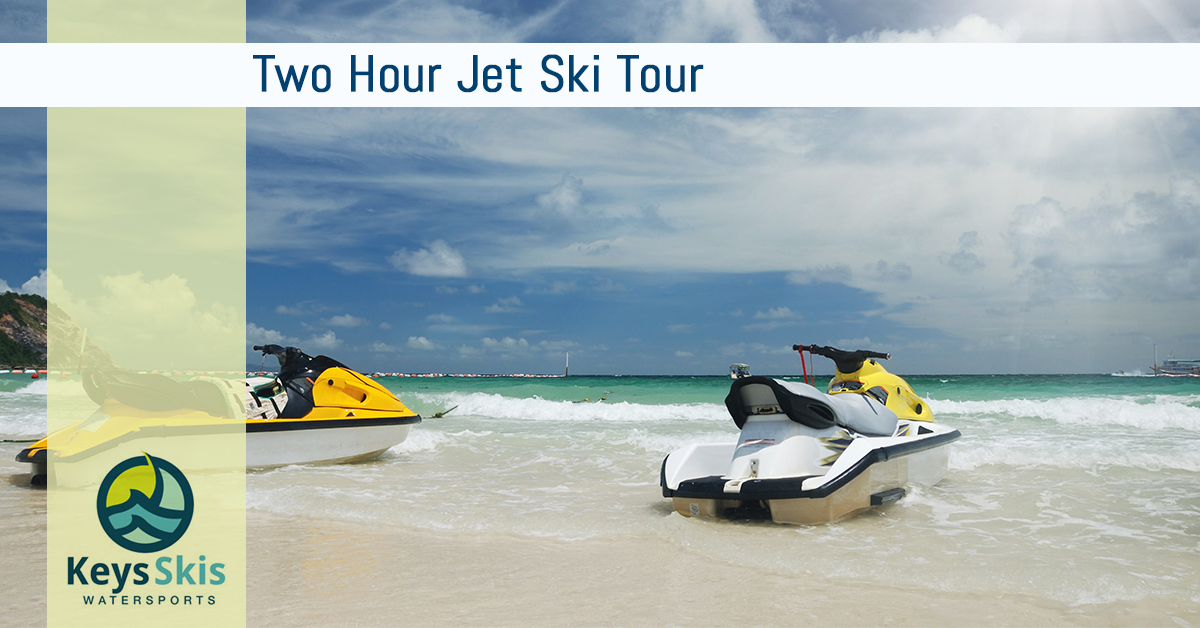 Two Hour Jet Ski Tour
There are so many amazing sights to see around South Florida that it can feel impossible to see them all. With a two-hour jet ski tour from Keys Skis and Adventure, you can give it your best shot! Give us a call to make sure you don't miss out on some of the best that the Florida Keys have to offer.
What We Do
Our jet ski tours are designed to guide you to all the best sights around the Key Largo area. Sure, we know there's plenty to see and do on land, but don't limit yourself. As beautiful as some of the beaches can be, the best way to see all the sights is to take to the water. With our two-hour tour, we'll go through all the important safety details, set everyone up with life jackets, and get underway. An experienced guide will then take you out and direct you on a guided tour of some of the best sights of the Keys.
Sights to See
Down here on the southern tip of Florida, we're host to a plethora of different ecosystems, and each comes with different things to take in. Explore around Key Largo, jet out onto the Atlantic Ocean, and dip into the Gulf of Mexico, all on one tour! If you're ready to see beautiful tropical fish, a variety of different ecosystems, and maybe even find a pod of dolphins, sign up for a jet ski trip with Keys Skis and Adventure! Here are a few of the sights you won't want to miss:
Mangroves
This is a tree unlike any other you may have encountered. The mangrove tunnels are a unique ecosystem rife with birds, aquatic creatures, and some of the coolest tree formations thanks to some really wild roots. Of course, the maze of canals and tunnels created by the mangroves can easily become confusing. A guide can be doubly-beneficial in the mangroves because so many canals can lead to dead-ends and shallow waters that are too dangerous for jet skis to handle. If you want to explore without fear of getting lost, trust one of our expert guides to keep you on the right watery paths.
Coral Reefs
There's no need to go all the way to Australia to experience the vibrant and abundant life of a coral reef. The Keys are host to North America's only living coral reef. It starts up near Miami at Key Biscayne and continues for 221 miles down and around the tip of the peninsula, ending at Dry Tortuga. Of course, because of the fragile nature of the reef system, you'll need to exercise plenty of caution to avoid causing damage. If you're interested in taking a closer look at the reefs, we suggest grabbing some snorkel gear and renting kayaks to get closer without harm. Our jet ski tour guides can help you check out the exciting aquatic life while avoiding fines or other issues. Just give us a call!
Jet Ski Tours
You're more than welcome to rent jet skis and head off on an adventure of your own choosing. However, if you want a bit more guidance, we can help! Start off your vacation by taking in all the ocean, the Gulf, and some inland waterways. Or, if want to get a little deeper into exploring one specific area, talk to our team about options to customize your tour. Explore all that Key Largo has to offer, delve into the waterways around the Upper Keys, and enjoy an exhilarating time on your guided jet ski tour. Book online or contact us to get started!